What Not to Say to Your Workers' Comp Doctor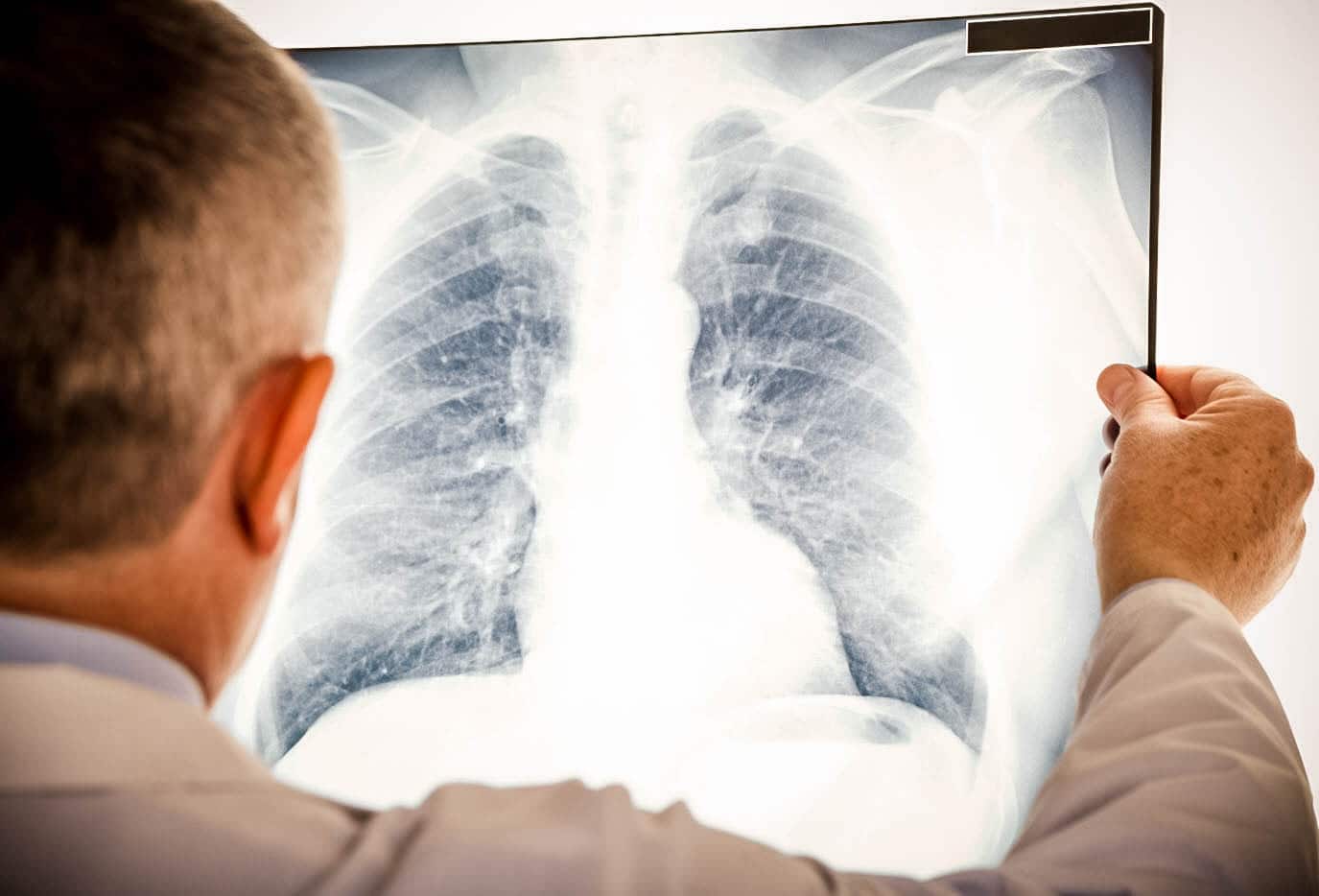 There are several things victims should avoid saying when talking with a workers' comp doctor. When work-related injuries occur, an injured worker is usually referred to a workers' comp doctor for medical evaluation and treatment. The doctor's medical records have a big impact on the approval or denial of a workers' compensation claim, so knowing what not to say to a workers' comp doctor is important.
Workplace Injury Claims
Workers in Illinois who suffer work-related accidents and injuries are entitled to file workers' compensation claims to recover damages for medical expenses, lost wages, physical therapy expenses, vocational rehabilitation costs, job retraining costs, and temporary or permanent disabilities. Employers are required by state laws to carry workers' compensation insurance that covers work-related injuries for their workers, regardless of who is at fault for the accident and injury.
Notifying the Employer
When work-related injuries occur, an injured worker is required to notify his or her employer in writing within 45 days of the accident. This is the first step in the workers' compensation claim process. When the employer receives written notification, the claim is filed with the Illinois Workers' Compensation Commission (IWCC), the state agency that's responsible for evaluating and approving or denying all workers' compensation claims.
Seeking Medical Treatment
When a worker is injured, he or she is typically referred to a workers' comp doctor within the employer's insurance network. That doctor is responsible for the worker's medical evaluation, examination, and treatment plan. The doctor's medical records typically indicate the following conditions:
The severity of the work-related injuries
Pre-existing injuries and health conditions
The need for surgery to correct injuries
The possibility/probability of temporary or permanent disabilities
The worker's ability to resume his/her normal job duties
The need for vocational rehabilitation and/or job reassignment
When Illinois workers' comp claims are filed with IWCC, close attention is given to the medical records provided by the workers' comp doctor. A claim approval may hinge on what not to say to a workers' comp doctor during an IME medical evaluation and examination.
What is an IME Examination?
When a workers' compensation claim is filed, an injured worker must undergo an independent medical exam (IME), usually performed by a doctor who's an expert on workers' compensation injuries. IME exams are often done by assigned doctors usually within an insurance company's network.
IME doctors are trained to spot exaggerations, lies, and inconsistencies when evaluating work-related injuries, so it's important to understand what not to say to a workers' comp doctor. During an IME evaluation and exam, saying or doing the wrong thing in front of the workers' comp doctor can lead to a denied workers' compensation claim. It's best to be honest with the doctor, rather than trying to hide or lie about details of the injury. If complications arise, injured workers should know how a workers' comp lawyer can help with a claim.
What does an IME Doctor Look For?
During an IME, the doctor will conduct an interview with the injured worker to learn the details of his or her accident and medical condition, and then conduct a thorough medical examination through various tests. At some point, the doctor may also consult other medical records provided in relation to the worker's injury case. During this process, the IME doctor looks for a variety of factors about the injury victim, including:
General Appearance – The IME doctor will observe the worker's general appearance when he or she walks into the exam room. The doctor will look closely at the worker's weight and personal hygiene; how the worker stands and moves around; and any signs of physical pain or emotional distress.
Objective Manifestations of Injury – The doctor will review any medical imaging studies including X-rays, MRI reports, CT scans, and EMG nerve conduction studies that indicate signs of injuries to the body. After reviewing the studies, the doctor will evaluate whether the worker's subjective symptoms of pain and discomfort are consistent with his or her physical injuries.
Subjective Manifestations of Injury – The doctor will perform certain tests that indicate subjective signs of pain, discomfort, sensitivity, or insensitivity. For example, a lower back injury may require the worker to perform a variety of movements that turn or stretch the back, so the doctor can note when the pain starts and stops.
Other Contributing Factors – The doctor will inquire about prior health conditions or injuries prior to the workplace accident looking for other factors that contribute to or aggravate the injury. Questions will also be asked about certain lifestyle behaviors like smoking, drinking alcohol, recreational drug use, and sleep deprivation that may have contributed to workplace injuries.
What Not to Say to a Workers' Comp Doctor During an IME Exam
During an IME exam, handling the situation carefully by knowing what not to say to a workers' comp doctor can be beneficial to the outcome of a workers' compensation claim. There are certain behaviors and actions that should be avoided during an IME exam, medical evaluations and treatments, and conversations with a workers' comp doctor.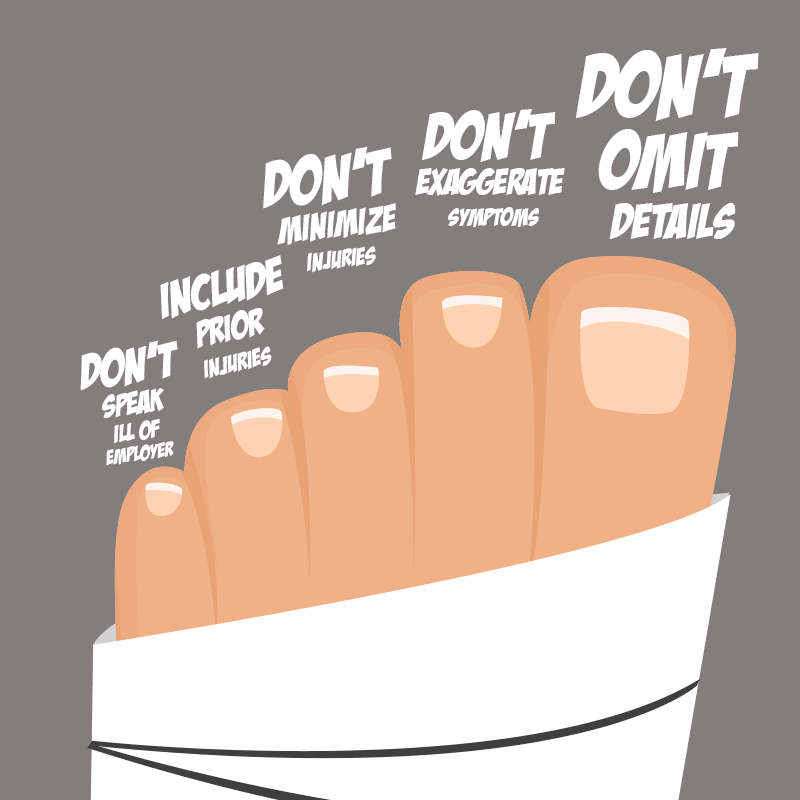 Omitting Details About the Accident
During an IME evaluation and physical exam, the IME doctor will ask about what happened leading up to the accident and injury. It's important to explain the situation completely without leaving out any details, even if those details are not favorable to the workers' comp claim.
Since IME doctors are well-trained in spotting dishonesty in workers' comp cases, it's likely that any inconsistencies will be noticed by the doctor as well as the workers' compensation insurance adjuster. If details given by the injured worker to the IME doctor don't match the details provided by the employer, it may send up a red flag that causes a denied claim. If a claim is denied, a workers' compensation attorney can file an appeal to have the claim reviewed.
Exaggerating Symptoms Hurt a Workers' Comp Claim
As a trained medical professional, a workers' comp doctor can tell when a worker is exaggerating his or her injury symptoms. By asking direct questions during the IME evaluation and reviewing a series of tests, the doctor can accurately diagnose injuries.
The doctor may check for a worker's physical reactions to pain, already knowing normal responses based on specific injuries. If the worker does not respond or responds when he or she should not, the doctor may note that the worker is faking painful reactions. Diagnostic imaging tests can also reveal that a worker is exaggerating injury symptoms. It's hard to deny when the injury doesn't appear severe on the imaging test results.
Minimizing Injuries Jeopardize Workers' Comp Claims
Just like exaggerating the severity of an injury, making up injury symptoms that don't exist can lead to a denied workers' compensation claim. Lying to an IME doctor about physical pain and other injury symptoms should be avoided. IME doctors usually have years of experience in workers' comp cases and know what to look for when it comes to made-up injury symptoms.
When describing injury symptoms, workers should be honest about their pain and physical limitations caused by the injury. Workers should not lie about their ability to perform certain tasks like walking, running, bending over, lifting objects, or reaching above their heads. IME doctors note everything from the exam, so lying about injury symptoms can discredit a claim. However, it's also important not to downplay any actual symptoms to make a claim seem more believable.
Failing to Mention Prior Injuries When Talking to the Workers' Comp Doctor
As part of an IME medical exam, the doctor will always inquire and take notes about a worker's medical history including pre-existing health conditions and past injuries. Although it may seem tempting to hide them or leave them out of the evaluation, that information should not be included in what not to say to a workers' comp doctor. Previous injuries often show up on diagnostic imaging results. The doctor may also see notes in previous medical records about prior treatments for existing medical conditions and old injuries.
Leaving out past injuries can make the insurance company think that old injuries are responsible for current pain and other problems. To prevent a denied workers' comp claim, a worker should tell the doctor about any old injuries and describe how the pain from the work injury is different. The doctor should be informed when old injuries have not caused pain for several years.
Making Negative Remarks About an Employer
In some cases, resigning after workplace injuries may cause a worker to feel resentment towards an employer, especially if an unsafe work environment contributed to the accident. The worker may blame unsafe equipment, lack of proper safety gear, and violations of safety regulations on his or her employer who failed to follow OSHA safety guidelines.
Even in cases where this information is correct, negative comments about an employer made during an IME evaluation and exam can end up in the doctor's medical report. It's best for a worker to assume that everything said may get reported to his or her employer, as well as the workers' comp insurance company. Remember, what not to say to a workers' comp doctor can be just as important as what is said.
Can an Injured Worker Choose a Doctor?
In Illinois, injured workers have certain medical rights under the Illinois Workers' Compensation Act which allows workers to choose their own doctor for medical treatments. To ensure fair treatment, Illinois has a "two doctor rule" that permits injured workers to choose two doctors. A worker can receive medical care from his/her chosen doctor, as well as a second doctor who is assigned or referred by the chosen doctor such as a specialist in certain types of injuries.
When choosing treatment from a personal physician, that doctor must be authorized to treat workers' compensation injuries. Before an initial visit, the injured worker must tell the doctor that he or she has a work-related injury and that a workers' compensation claim has been filed with his or her employer. All Illinois physicians who handle workers' comp claims must be authorized to provide treatment and accept Illinois workers' compensation insurance.
When choosing treatment from an assigned physician, the worker's employer must pay for all expenses related to doctor visits, lost wages, and travel expenses. The employer must also make sure the initial medical exam is scheduled at a convenient time and location for the worker.