What Causes Significant Injury in a Fall?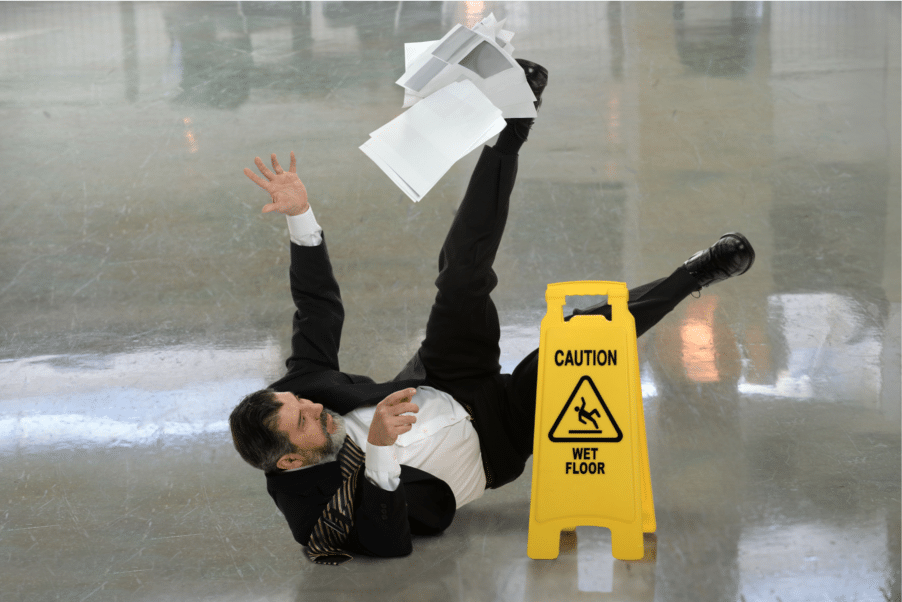 The impact of a fall plays a significant role in the severity of injuries. Accidental falls from elevated heights commonly result in serious head trauma, brain damage, and death.
Dangers of Slip and Fall Accidents
Severe injuries from slip and fall accidents most frequently occur from falls onto hard surfaces. The distance a person falls plays a significant role in the severity of injuries due to the speed and impact of the fall. Accidental falls from high places cause the most severe injuries including broken bones, internal injuries, head trauma, brain damage, and often death. When a person's head is unprotected in a fall, death is more likely due to the strong force of impact.
Falls are the second greatest cause of accidental injuries in the United States, exceeded only by motor vehicle accidents. Slip and fall accidents commonly occur on stairs and steps, slippery surfaces, scaffolding and ladders, rooftops, outdoor cliffs, and playground and sports equipment. Whether a fall results from slipping, tripping, or stumbling indoors or outdoors, the height of the fall has a big impact on the severity of injuries and the victim's chances of survival.
Types of Falls
Slip and fall accidents are categorized into three groups: same-level falls, accidental high-level falls, and intentional high-level falls. The distance a person falls is linked to his or her chances of survival. Other factors considered include: the person's age and sex; current health conditions; substance abuse problems; the surface of the landing; and the severity of fall injuries.
Same-Level Falls
Same-level falls are one of the most common types of accidents seen by slip and fall lawyers. They are usually caused by wet, slippery surfaces, uneven surfaces, damaged floors and stair treads, insufficient lighting, and tripping over objects or cords. Same-level falls most often result in minor injuries such as cuts and bruises, sprained wrists and ankles, fractures and broken bones, and back and tailbone injuries. In most same-level falls, people fall backward onto their back or tailbone. When forward falls occur, injuries are usually to the arms, wrists, hands, and face.
High-Level Falls
Although same-level falls are more frequent, high-level falls are more severe. In elevated falls, victims have a much greater risk of hitting an object during the descent and landing on a hard surface such as the ground or concrete. Falls from high places such as rooftops, balconies, scaffolding, ladders, and outdoor cliffs frequently result in severe injuries including broken bones, broken necks, head trauma, and brain injuries. Many injuries from high-level falls result in partial or permanent paralysis that impacts a victim's existing and future lifestyle. If traumatic brain injuries occur (TBI), a person may suffer a variety of health problems including cognitive dysfunction, memory loss, speech and hearing impairments, vision loss, physical immobility, and emotional problems.
The majority of high-level falls are accidental. They happen suddenly and do not allow the victim to prevent the fall. High-level falls are frequently seen on construction sites where workers use cranes, scaffolding, and tall ladders to reach work locations at high elevations. Falls from high-levels also occur in many sports-related activities, such as mountain climbing, snow skiing, sky diving, hang gliding, aquatic diving, and gymnastics.
High-level falls often result in severe injuries and fatalities due to force of impact from the fall and lack of proper safety equipment. Slip and fall lawyers often encounter severe injuries from construction falls where safety equipment malfunctioned or was not provided on the jobsite. In sports-related falls, many injury victims don't have adequate safety equipment to prevent severe injuries, or don't use safety equipment at all.
Personal Injury Claims
Slip and fall accidents and injuries can be caused by many factors including the victim's own careless behavior and the negligent actions of another party. Depending on the location and circumstances of the fall, the injury victim may be entitled to compensation for his/her injuries.
Falls on Another Person's Property
When a slip and fall is caused by another party's negligence, an injury victim can file a personal injury claim or civil lawsuit against the negligent party. Illinois laws permit an injured victim to file a premises liability lawsuit if hazardous property conditions caused the injuries. Premises liability lawsuits allow damage awards for:
Medical expenses for present and future care
Lost wages
Loss of consortium
Pain and suffering
Rehabilitation and physical therapy
Physical disfigurement
Falls in the Workplace
When a slip and fall accident occurs in the workplace, injured workers can file workers' compensation claims to cover their losses. In Illinois, all employers are required to carry worker's compensation insurance that protects workers who suffer on-the-job injuries. Worker's compensation benefits cover medical expenses, lost wages, disability payments, vocational rehabilitation, and survivor's benefits if a worker is killed on the job.