Did You Slip and Fall at Work?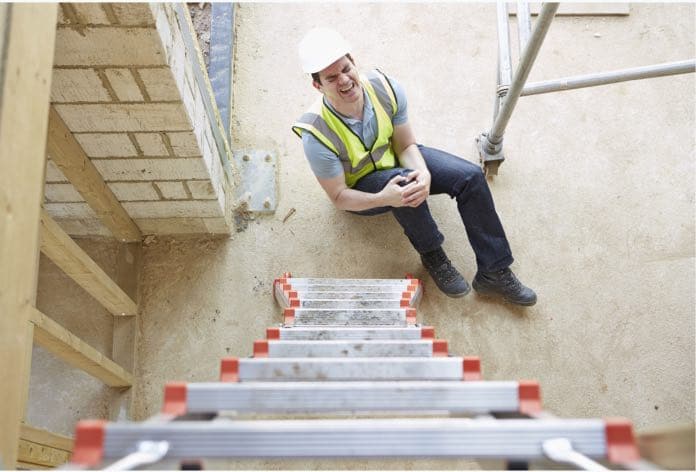 Illinois workers who suffer a slip and fall at work are entitled to workers' compensation benefits.
Workplace Slip and Falls
Slip and falls are one of the most common types of work-related accidents, accounting for one in every four injuries in the workplace. According to the U.S. Department of Labor, workplace slips, trips, and falls cause more than 25 percent of employee injuries and a high rate of missed workdays every year. Workplace slip and falls are also the leading cause of workers' compensation claims and the leading cause of occupational injuries for workers over 55 years of age.
Workplace slip and fall accidents are caused by a variety of factors, and injuries can vary significantly depending on the worker's age and health, the severity of the fall, and response time for medical treatment. Common causes of workplace slip and falls include:
Wet or slippery floors caused by spilled liquids
Damaged and uneven flooring surfaces
Cables, cords, or wires stretched across the floor
Loose handrails in stairways
Abrupt, unexpected elevator stops
Poor lighting
Most workplace slip and falls cause non-fatal injuries such as cuts and bruises, sprained ankles, fractures and broken bones, and minor head injuries, but some occupations have a high percentage of fatalities. Construction workers, electrical utility workers, elevator mechanics, roofers, and tree trimmers suffer fatal injuries caused by falls from heights. In the construction industry, falls from ladders and scaffolding are a leading cause of severe injuries and fatalities. Fixed ladders and ladders cages also contribute to a high number of deadly falls.
What to Do After a Slip and Fall Accident
Although the Occupational Safety and Health Administration (OSHA) imposes strict workplace safety regulations, safety violations contribute to thousands of on-the-job accidents and injuries for workers each year. In Illinois, workers who are injured on the job can file a workers' compensation claim for injuries. Workers' compensation benefits normally include payment of medical bills for treatments, rehabilitation costs, and therapy costs; out-of-pocket expenses for medical aids and medications; and a percentage of lost wages during medical treatment and recovery.
Workers who file Illinois workers' compensation claims for benefits are not required to prove fault as long as injuries occurred during the normal course of employment. If a claim is denied, a Chicago slip and fall lawyer can file an appeal with the Illinois Workers' Compensation Commission, the state agency that works with employers and workers to resolve disputes related to work-related injuries.
What Causes Significant Injury in a Fall?
Common Causes of Slip & Fall Accidents
How Does a Lawyer Determine Future Medical Bills in a Slip and Fall Case?