Did You Slip and Fall at Work?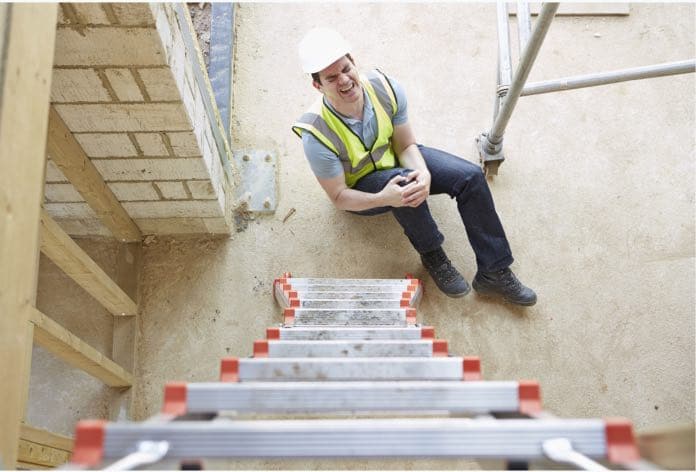 If you are injured in a slip and fall accident while at work, understanding the options for obtaining compensation for your losses, like time away from work and medical expenses, can be very important to your recovery. You may have entitlement to workers' compensation through your employer that will provide much-needed assistance, however. Knowing what to do after a slip and fall accident can help ensure you get the benefits you need and deserve.
What Causes Slipping at Work?
A slip is defined as sliding unintentionally for a short distance, typically losing one's balance or footing. Slips are more likely to occur when you lose traction. Slip and fall accident causes may include snow, ice, rain, spills, and loose mats or rugs. Lighting and clutter may also be a factor in these types of accidents. Stairs with damaged treads or loose handrailing may be another source. Also, cracked or uneven sidewalks may be an additional hazard.
Falling at Work
You must inform your supervisor if a slip and fall accident happens while you are working. Making a report will alert your supervisor to the problem, so others will not come to a similar accident now and in the future. For example, this may give them a chance to implement ladder safety precautions to avoid another worker falling in the same manner as you.
Also, reporting your accident will start a record of the accident with your company. Such a record will give proof of the accident happening while at work. This should also start your workers' compensation claim. Filing an incident report as soon as possible after the accident will also ensure that time limitations will not be a factor in successfully recovering the benefits you are due.
Slipping at Work Can Cause Serious Injury
Accidents, like slipping and falling at work, rank as the second leading cause of workplace injuries that require time off work to recover. Common injuries that occur can include injuries like sprains, strains, bruising, and fractures. More serious injuries can include broken bones, spinal cord injuries, and traumatic brain injuries.
Seeking medical attention after suffering a slip and fall at work, even if you don't think you were seriously hurt, is for your benefit. Serious injuries can take days or even weeks to begin causing you pain. That pain can start to limit you and your ability to perform your job or even complete simple daily tasks. Seeking immediate medical attention, even if you do not feel the injury is severe, can also help with any potential workers' compensation claims.
What to do After Your Slip and Fall at Work
After you have reported your slip and fall accident at work, organization and keeping accurate records of all documents is very important. A copy of the incident report from your supervisor and any pictures you may have taken, as well as any medical bills or documentation from your medical team, is essential for you to keep track of as well.
You will also want to keep any documents provided to you by your employer. Taking notes on any improvements or steps your employer has taken to prevent accidents like yours from happening again is also important. By staying organized and keeping accurate records of all documents, you are giving yourself the best chance of success in receiving compensation for your claim.
Gather Evidence
After your slip and fall accident at work, it's essential to try and gather evidence from the scene. This can include taking pictures of the location where the accident happened, and any obstacles or hazards that may have contributed to the accident. Make sure to try and take photos of any physical evidence, such as spilled liquids or torn carpeting. It's also important to try and document any statements from your coworkers.
Keeping records of any medical treatments that may have been necessary for any injuries, as well as following all recommendations given to you by your medical team, is essential. Collecting this information after your accident ensures that all parties involved will have a clear understanding of what occurred and a stronger ability to determine responsibility.
Filing a Workers' Compensation Claim for a Slip and Fall Accident
To ensure that your employer will most likely approve your claim, it is important to file your claim as soon as possible after the accident. The strength of your claim is determined by many factors, including the details surrounding the accident and the ability to prove a link between your job and the harm that came to you by your slip and fall.
According to the Illinois Workers Compensation Act, injured employees can file a claim with the Illinois Workers' Compensation Commission. Compensation may include coverage for medical costs and lost wages while you are recovering from your injuries. While this system does not require proving who is at fault, you are going to have to show that your injury was caused while you were performing your job duties.
How Are Slip and Fall Settlements Calculated?
If a slip and fall at work leaves you with injuries, you may receive workers' compensation benefits. These may include coverage of your medical expenses; payment of temporary total disability, permanent partial disability, or permanent total disability; and vocational rehabilitation. Various factors will determine the type and duration of the benefits you are awarded.
Medical Expenses
Workers' compensation policies cover all the reasonably necessary medical treatment and care required for a work-related injury. For example, this includes the fees for emergency care, doctor office visits, surgical procedures, laboratory testing, imaging, and other such treatments. Additionally, your employer's workers' compensation carrier may pay for prescription medications, adaptive medical devices, and other such related needs.
For the costs of your medical care to be covered, your physician may have to get prior authorization from the insurance company. Additionally, you must choose a healthcare provider from your employer's preferred provider program, if they have one.
Temporary Total Disability
Your injury may keep you from working while you recover, or your employer may not have a duty-status that works given your physical limitations while recovering. In these cases, you may receive temporary total disability wage replacement benefits. Paid at two-thirds of your average weekly wage prior to your injury, you will not receive these benefits for the first three days you require off work, unless you must miss at least 14 days of work in recovering.
Permanent Partial Disability
If you lose partial use of your body, you may receive permanent partial disability payments. Factors that will determine whether you receive wage differential benefits, scheduled loss-of-use awards, nonscheduled awards, or disfigurement benefits include the following:
The affected body part
Whether you suffered permanent maiming
Whether you suffered permanent impairment
Your earnings upon returning to work as compared to before your injury
Permanent partial disability benefits typically pay at a percentage of your average pre-injury weekly wage.
Permanent Total Disability
You may receive permanent total disability payments if you are unable to do any kind of work due to injuries suffered in slip and fall accidents at work or other such workplace accidents. Once you reach your maximum medical improvement, your doctor will evaluate your condition to determine if you have any disability or permanent physical loss due to your injury, and the extent to which you are impaired. If you cannot perform any work duties because of your condition, your treating provider may find you permanently and totally disabled.
Do You Need a Lawyer for a Slip and Fall Claim?
In some cases, you may be able to take care of your claim on your own. However, if your slip and fall case is more complicated, you are just not comfortable going up against your employer's insurance company on your own, or your initial claim was denied, you have every right to discuss the details of your potential case with a slip and fall lawyer who has experience with workers' compensation cases.
A lawyer can give you information on factors such as the following:
Weaknesses of your case
Strengths of your case
Clarity of who is at fault for your case
The seriousness of your injuries
Entitlement to workers' compensation benefits and the process involved with receiving them
In-depth explanations of all of your options and how they might apply to your situation
Getting Help After Your Slip and Fall
If you decide to file an injury claim after your slip and fall, having a legal professional on your side may help to ensure you end up with the best result possible. A lawyer can help with not only the pros and cons of your case, and the different options that may be available to you, but also with determining appropriate compensation. Further, if long-term medical care is needed or if your slip and fall at work injury is likely to affect you in the future, the help of a lawyer will aid in ensuring you do not have out-of-pocket expenses for your future health care.
What Causes Significant Injury in a Fall?
Common Causes of Slip & Fall Accidents
How Does a Lawyer Determine Future Medical Bills in a Slip and Fall Case?