Questions to Ask When Hiring a Truck Accident Lawyer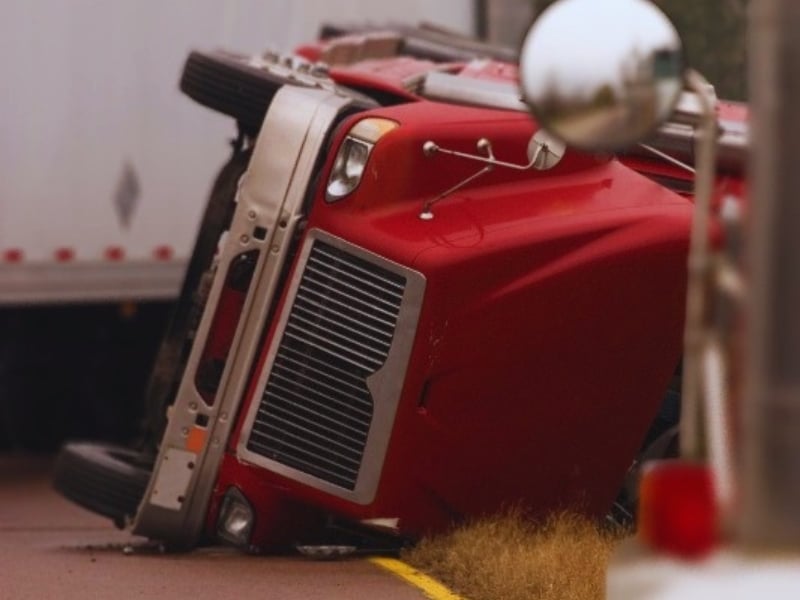 When you're looking to hire a truck accident lawyer, you should ask your potential lawyer questions about his or her legal background and experience, fee structure, willingness to take your case to trial, how he or she will handle your case and his or her assessment of your case. Truck crashes often involve complex legal issues, multiple parties, and intricate insurance and liability issues. As a result, it's essential to work with a lawyer with the right knowledge, skills, and resources. Here are more on the questions to ask when hiring a truck accident lawyer.
5 Questions to Ask When Hiring a Truck Accident Lawyer
Trucks often cause catastrophic damage due to their size and weight when they're involved in accidents. In 2021, there were more than 11,000 accidents involving large trucks in Illinois. A vital decision truck accident victims have to make to successfully take on large trucking companies and their insurers to get the compensation they need is hiring the right truck accident lawyer. These are the top five questions to ask your potential lawyers to ensure you hire the best lawyer for your case.
1. What's Your Background and Experience in Handling Trucking Accident Cases?
A good starting point is asking about the lawyer's background and experience with truck accident cases. You want a lawyer with the necessary background to represent you and help you receive compensation. Your lawyer should have a strong personal injury background and multiple years of legal experience.
Besides having a personal injury background, the lawyer you hire should have experience in taking on truck accident cases, specifically. That's because accident cases involving trucks are usually significantly more complex than typical passenger vehicle accident cases.
Truck accidents can lead to devastating injuries. Victims will likely need compensation for their current medical bills, as well as future ongoing treatment and emotional pain and suffering. A lawyer with experience handling such injuries will understand the long-term challenges that truck accident victims face and help you receive the total compensation to which you're legally entitled.
Liability for trucking accidents may also spread across multiple parties, such as the driver, logistics company, maintenance company, truck manufacturer, and cargo company. An experienced truck accident attorney will investigate and identify all the liable parties and build a solid case against them, helping maximize your compensation. An inexperienced attorney, on the other hand, may focus on just one party instead of creating a case against all the parties that ought to be involved.
Additionally, trucking laws are different from normal automobile regulations. Your attorney would need to collect extra evidence like driver training records, rest logs, truck maintenance reports, and compliance with state and federal regulations. You'll need to ensure your attorney understands how the heavily regulated trucking industry operates and can interpret data obtained from trucking companies, which is crucial to your case.
In addition to experience, you should find out your potential lawyer's success record with the truck accident cases he or she has previously handled. You don't want to work with a law firm that has kept losing its truck accident cases. A firm that has already won trucking accident claims and lawsuits in the past will know the ideal strategy and plan to execute to win your case and avoid making major mistakes.
2. How Will You Handle My Case?
You should find out how a prospective lawyer will handle your case. It's important to establish whether the lawyer will personally manage your case or it will be a legal support staff member who will handle the case. Some law firms accept so many cases that others end up being worked on by paralegals or secretaries. You may meet with one partner but have a different partner handling your case.
Once you've ascertained who your case will be assigned to, check the person's expertise and experience levels. You should have confidence in and be comfortable with the person with whom you are dealing.
Communication is a crucial aspect of an attorney-client relationship. You'll want to know how you and your attorney will communicate as your case progresses. You need assurance that the law firm will keep you updated on what's happening and use a mode of communication that fits your lifestyle.
Take note of how the attorney handles communication with you, even before you become a client. If an attorney communicates poorly with you, chances are high that the communication won't be excellent after you choose him or her to represent you. You want an attorney who's open and responsive.
3. What Is Your General Assessment of My Case?
Besides learning about the lawyer, you should also find out more details about your case. An experienced lawyer should be able to give you the strengths and weaknesses of your case. Your lawyer should be honest with you and give you a real sense of your chances of winning the case, including what could go wrong over the course of the case. That will help you maintain more realistic expectations of the future before you start pursuing the case.
No lawyer can guarantee that you'll receive a particular amount of compensation. A lawyer making outlandish promises about case outcomes should raise red flags.
4. Are You Ready to Go to Trial?
You want to hire a truck accident lawyer who has courtroom experience and is willing to take your case to trial if settlement negotiations are unproductive. While most truck accident cases settle before trial, sometimes a trial is necessary.
Truck accident cases can involve extensive injuries and damages and complicated details. Trucking companies will try everything possible to minimize your losses and injuries. Their attorneys and insurers may even shift the blame to you or deny your claim. The companies may refuse to provide fair compensation, despite your attorney's best efforts to get an out-of-court settlement. It may be impossible to resolve your case through negotiations in such situations.
If your case can't be settled, you should be confident that the lawyer you hire has the willingness and experience to take your case to trial to secure the maximum possible compensation. A lawyer who has a reputation for taking cases to trial can influence defendants to want to settle their claims to avoid litigation expenses.
5. What's Your Fee Structure?
Asking a truck accident lawyer about his or her fee structure before hiring the lawyer for your case is critical to avoiding surprise fees, excessive costs, and conflicts between you and the lawyer when the case concludes. You'll want to ensure you can afford the lawyer comfortably.
The lawyer should clarify their fee structure's details, including:
How the lawyer and his or her team will be compensated for handling your case
Whether you're expected to pay if you don't receive a settlement
Whether you'll need to pay for the services required if your case proceeds to trial and needs extensive research, expert witnesses, or accident reconstructionists
Any additional expenses related to your case that you may be expected to cover, such as filing fees, postage costs, and service of process fees
One of the common myths about accident cases is lawyers are expensive. However, you won't have to forego filing a truck accident claim or lawsuit due to financial reasons if you choose to work with a lawyer that operates on a contingency fee structure. Many lawyers operate on this structure. In a contingency fee arrangement, you don't pay any legal fees until you get a settlement or jury award. Your attorney will then charge a percentage of the total payout.
The contingency fee structure is usually offered by lawyers with high win rates. They will fight harder to ensure you get compensation. They also usually offer an initial free consultation.
Reputable truck accident lawyers won't have a problem with answering questions about fees. Be wary of lawyers who aren't transparent about their fee arrangement or don't provide a free initial consultation.
Preparing for Your Free Consultation With an Attorney
When you find a law firm that looks like an excellent option, the next step will be to schedule a free initial consultation. It's vital to prepare adequately to make the most of this initial meeting.
First, you'll need to prepare questions to ask the attorney. The questions above will help you know the attorney better. You'll be able to determine the attorney's qualifications and experience and whether you will be comfortable working with that firm.
Make sure you have a pen and paper at hand to take notes during the meeting. These notes will prove useful when you'll be comparing all the attorneys you want to consider.
The attorney will rely on the information you provide to gain a better understanding of your trucking accident case. Therefore, you should bring as much information as you can. Take the time to write down all the details you can remember about the accident. Gather all the documents related to the accident, such as medical records, a copy of the police report, pictures of the crash scene and damage, witness statements, the trucking company and driver's information, and your insurance coverage details. Bring these documents with you to the consultation.
What to Expect in Your Truck Accident Case
Once you hire a truck accident lawyer, he or she will start working to build a strong case on your behalf and establish the basic legal concepts. Your lawyer will investigate what caused your accident and identify all the responsible parties to ensure they're all held liable for their part in causing the accident. Your lawyer will compile and preserve all the necessary evidence.
A significant advantage of working with an experienced lawyer, and knowing what questions to ask when hiring a truck accident lawyer, is that he or she will determine a fair value for your case more accurately by identifying and calculating all the losses related to your crash. The lawyer will file your claim for compensation and contact the relevant insurance companies to start the settlement negotiation process. Your lawyer will negotiate a favorable settlement for you and, if necessary, represent you in court if the trucking company doesn't settle your claim fairly.