Foot Safety in the Workplace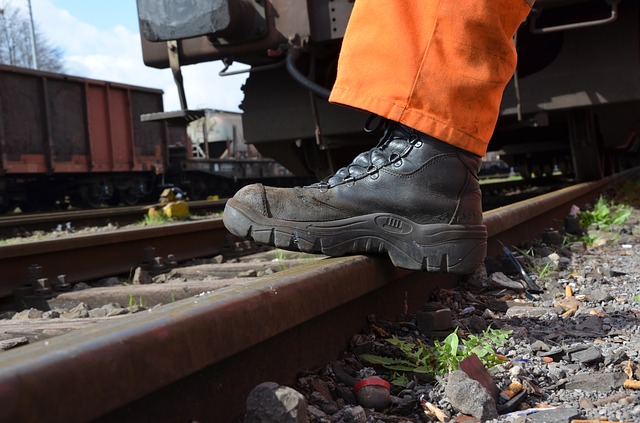 Improper foot safety in the workplace leads to increased risks of work-related injuries, time away from work, lost wages, and costly medical expenses.
Proper Footwear Prevents Foot Injuries
Workers in certain occupations need protective clothing and equipment for job safety. For many workers, wearing the wrong shoes on the job can cause serious foot injuries, requiring the intervention of a work injury lawyer. According to the U.S. Bureau of Labor Statistics, approximately 100,000 workers sustained foot injuries in 2016 just by wearing improper shoes. The majority of these injuries were caused by falling objects and heavy equipment that resulted in bruises and lacerations, puncture wounds, fractures, broken bones, and crushing of workers' feet and ankles.
Workers who handle heavy equipment, power tools, and sharp objects, or perform manual labor that requires lifting and moving need extra foot protection to prevent injuries. Depending on job tasks, workers may require work boots with metal toes, shoes or boots with anti-slip protection, rubber boots, or isolating safety boots. Work boots with steel toes, alloy toes, or composite toes protect a worker's feet from heavy or sharp rolling or falling objects. Work boots with heat-resistant soles protect workers who deal with hot surfaces underfoot, such as paving and asphalt. Work boots with rubber soles protect workers from live wires, chemical burns, and falls from oily, greasy, or wet floors.
OSHA Footwear Standards
The Occupational Safety and Health Administration (OSHA) has strict requirements for protective clothing and gear for certain occupations. When protective footwear is required, it must meet safety standards according to OSHA's safety testing regulations. Employers are required to provide protective footwear for employees who work in areas that pose the following hazards for foot injuries:
Heavy objects that can fall or roll onto feet
Sharp objects that can puncture or cut the feet
Hot or slippery surfaces
Poisonous or corrosive materials
Electric-shock or electrocution
Static electrical discharge that can cause explosions
Protective footwear must comply with the ASTM International standards that establish minimum performance requirements for various workplace hazards. One such hazard relates to the impact of falling objects. When a 50-pound weight is dropped from a height of 18 inches, it delivers 75 ft-lbs of force onto the toe of the shoe. Shoes or work boots that meet this testing requirement are labeled as I/75 footwear. Protection from rolling objects is referred to as resistance to compression. Shoes or work boots that withstand 2,500 pounds of force onto the toe are labeled as C/75 footwear.
If OSHA requires protective footwear for a worker's occupation, the footwear is provided to workers at no cost, but workers must wear them while performing normal work duties. Under OSHA compliance standards, if safety shoes or boots are required and workers don't wear them, employers are permitted to send employees home for disobeying safety regulations. Employers are required to assess the workplace and determine which job tasks present hazards to warrant protective footwear.
Workplace Safety Matters
Work injury lawyers see accidents and injuries in various jobs, but certain occupations have unique dangers that create greater injury risks. Wearing the appropriate footwear in certain occupations can prevent serious injuries, even amputations of the feet. The more dangerous the job tasks, the more important the protective footwear. For instance, firefighters choose work boots that are made specifically for their occupation and regulated by NFPA standards, while electrical-hazard boots are designed specifically for workplaces where there is a risk of stepping on live wires. Personal protective equipment (PPE) is designed for protection against specific job hazards. Workplace safety is rarely a one-size-fits-all endeavor.
Protective footwear should be checked for safety at regular intervals. If a heavy object hits the safety toe on a work boot, the toe protection may be compromised, and it may need to be replaced. Pieces of metal or other contaminants that get embedded in shoe soles should be removed immediately. Protective work shoes and boots should be regularly cleaned and maintained to maximize safety and longevity. For employers who want to ensure that they comply with OSHA safety regulations, OSHA offers various training program, voluntary protection programs, and free consultation assistance for small employers across the country.
According to the National Safety Council, a worker is injured on the job every seven seconds in America. That equates to 12,600 injuries per day, 88,500 injuries per week, and 4,600,000 injuries per year. Workplace safety can be increased by taking preventative measures to prevent workplace accidents. Protective footwear provides a cost-effective, simple solution to reduce worker foot injuries that often result in severe pain, long-term disabilities, loss of income or job loss, costly medical bills, and workers' compensation claims filed by a work injury lawyer. For many workers, wearing proper protective footwear on the job can mean the difference between a safe, productive day at work or a trip to the hospital emergency room.