Fall Safety at Home and at Work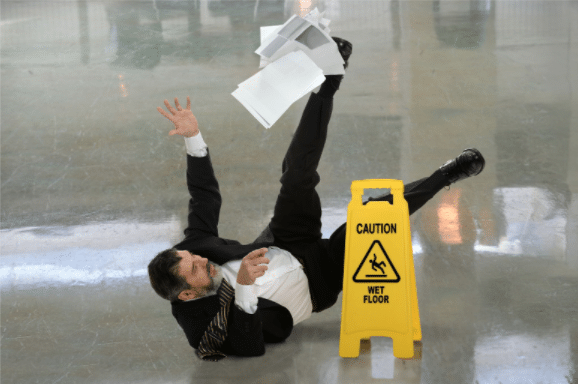 Falls at home and at work often result in serious injuries, disabilities, and even deaths. In America, falls send more than 8 million people to hospital emergency rooms every year.
Falls: A Leading Cause of Injury and Death
It's estimated that one in five falls cause serious injuries that impact daily life. Each year fall victims face injuries severe enough to require a trip to the hospital emergency room, medical treatments, pain medications, walking aids, and extended bed rest. In some cases, falls require surgery to repair broken bones, internal damages, and head injuries. Whether a slip and fall accident happens at home or in the workplace, the victim of a fall may face a long road to recovery.
Falls at Home
Falls are the leading cause of death for elderly adults. Due to health issues that cause problems with muscle loss, bone density, balance, vision, and hearing, elderly adults age 65 and over are particularly vulnerable to serious falls.
Tripping over an extension cord, falling down the stairs, or slipping in the bathtub can result in broken bones that take years to heal, internal injuries that require surgery, and brain damage that causes seizures, even death. Falls in older adults are responsible for 95% of hip fractures that result in limited mobility and invasive surgery.
Although injury lawyers see more fatal falls for elderly adults, slip and fall accidents are the leading cause of non-fatal injuries for all age groups. Falls at home are commonly caused by loose or damaged carpeting, slippery floors, uneven surfaces, electrical cords, poor lighting, and shoes without traction.
Falls at Work
According to the Centers for Disease Control and Prevention (CDC), there were 900,380 non-fatal work injuries reported in 2018, and 27% were attributed to slip and fall accidents. Slip and falls are the leading reason for workers' compensation claims each year, costing workers an average of 11 lost workdays and businesses an average of $52 billion in lost production.
In 2018, 43% of workplace falls were in the construction industry, accounting for 5,280 worker deaths. For construction workers, fatal falls from heights are seven times greater than for other workers in high-risk industries including:
Transportation
Manufacturing
Warehousing
Mining
Agriculture
Wholesale and Retail
The Occupational Safety and Health Administration (OSHA) enforces strict workplace safety regulations to prevent accidents and injuries. Employers who don't enforce regulations face violations, stiff fines, and the possibility of a business closure.