Halloween Injuries in the Workplace: Are They Covered?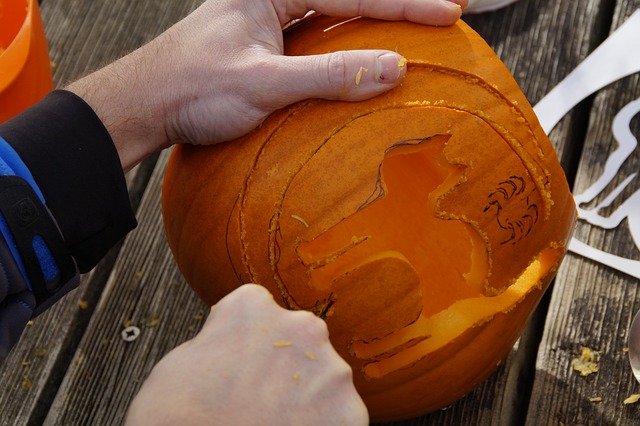 Under Illinois law, if an employee is attending an event at the request of his/her employer, and being paid for his/her attendance, any injury sustained at the event is considered a work-related injury, compensable under workers' compensation. 
Beware: Scary Halloween Workplace Injuries
Halloween is a fun-filled Fall holiday for both children and adults. As millions of children trick-or-treat through neighborhoods for candy and goodies, adults enjoy festive parties with costumes, food, drinks, and games. Halloween is a night filled with pumpkins, sweet treats, ghoulish costumes, and enjoyable activities, but it's also filled with accidents and injuries that create frightening trips to the hospital. In 2019, approximately 4,500 people were treated in hospital emergency rooms for Halloween injuries.
For many businesses, Halloween presents the perfect opportunity for a more relaxed work day. Employees can dress up in costumes, bring in their favorite treats, and mingle with co-workers throughout the day. In some cases, employers host special Halloween parties or events that include dining, music, dancing, and cocktails. While encouraging employees to dress in costume or throwing a Halloween office party can be a morale-booster, businesses can face Employment Practices Liability Insurance claims from Halloween-related events in the workplace.
To receive Illinois workers' compensation for accidental injuries that occur at Halloween parties and events, mandatory attendance by the employer is required. Voluntary attentance is not considered "in the course of employment," even when the employer pays for the event. To minimize accident and injury risks at Halloween events, employers should follow workplace safety tips:
Avoid pumpkin carving contests that may result in cuts and knife wounds
Prohibit the use of real candles that may ignite fires
Establish costume regulations to prevent slips, trips, and falls
Keep office decorations in general areas away from workers
Supervise employee games and activities
Prohibit alcoholic beverages
According to injury reports, at least 44 percent of Halloween injuries are caused by pumpkin carving, followed by falls caused by putting up decorations and tripping on costumes, and allergic reactions to consumed food and candy. Falls in the workplace are a leading cause serious accidents and injuries seen by workplace injury lawyers in Chicago.
Employers must consider possible workplace risks and maintain a safe workplace. If a workplace contains a warehouse with heavy machinery, strict adherence to the fire and safety codes set by the Occupational Safety and Health Administration (OSHA) must be followed. This means no open flames, and no flowing clothing near machinery. If a costume does not meet manufacturing floor safety guidelines, it should not be worn. Certain workplaces that already pose increased dangers to employees are not recommended for Halloween parties and workplace events.
Filing Workers' Compensation Claims
Chicago workplace injury lawyers handle a high percentage of claims from workers in high-risk occupations. Certain industries pose high risks of injury and illness for workers, so OSHA enforces strict workplace safety measures to prevent accidents. Workers who handle dangerous machinery, combustible materials, flammable liquids, toxic chemicals,and radioactive materials are in high-risk occupations with strict OSHA safety guidelines, because they face increased risks for severe injuries and fatalities.
Workers in other high-risk occupations such as healthcare, emergency medical services, public transportation, construction, shipbuilding, and food safety also face workplace dangers that are a normal part of employment. In many cases, workplace injuries occur because workers become complacent about recognizing or reporting workplace safety violations.
All workers have the right to speak to their employer or file a complaint with OSHA when hazardous working conditions exist. If hazardous workplace conditions are not resolved, identifying job hazards and filing a complaint can prevent workplace injuries and fatalities. When hazardous conditions clearly present a risk of physical harm and/or death, a worker may have a legal right to refuse to work until safety hazards are resolved.
When a workplace injury occurs during normal course of employment and normal working hours, the injured worker is entitled to file a workers' compensation claim to recover the cost of medical expenses, lost wages, and pain and suffering. If an employee suffers a workplace injury, Illinois law states that he/she must notify his/her employer of the injury as soon as possible after the injury occurs, but no later than 45 days. If a worker fails to give proper notice within 45 days, injury claims may be barred.
The employer is required to file the workers' compensation claim with the Illinois Workers' Compensation Commission (IWCC) in a timely manner, usually within 30-60 days from the date of the accident. Upon claim approval, the employer and employee will be notified, and the employee will receive workers' compensation benefits by direct deposit or check. If the claim is denied, a Chicago workplace injury lawyer can file an appeal, usually handled through an IWCC arbitrator. If the appeal is denied a workplace injury lawyer can pursue a personal injury lawsuit through the Illinois court system.